Similar Products
Follow us on Facebook where we post the best hidden deals we can find!
Click on the image to enlarge
Muscle Massage Roller Stick Athlete Body Massager for Sore Tight Leg and Back Muscles Recovery, Prevent Cramps, Myofascial Pressure Points Tension Release and Pain Relief Yoga Exercise Therapy Stick
Click on the image to enlarge
details
price trends
sales rank trends
satisfaction trends
Prime Eligible
Not Eligible
See Product Details on Amazon
Features
- EXTRA-STURDY CONSTRUCTION: Unlike other muscle rollers that quickly fall apart a few uses in or easily bend, Yogu is crafted with an inner sturdy steel rod that's covered with the highest-grade ABS plastic. This means your massage roller stick will never bend out of shape and will keep giving you effective massages years down the line.
- INSTANT PAIN RELIEF: With its unique ridged 9-roller design, our muscle massage roller gives you a deeper massage for impressively quick pain relief. Get relief from soreness after working out, manage nagging muscle pain, improve flexibility, or ease tension in the legs, arms, neck, back, buttocks, feet, calves or waist with a massaging stick that works in minutes.
- EASY TO HANDLE: No dealing with muscle roller massagers that keep slipping and sliding. Yogu is thoughtfully designed with handles that have a non-slip covering for use even with sweaty hands, and a unique convex-point shape that keeps your hands in place. Comfortably use the deep muscle roller on most parts of your body without having to ask for assistance.
- CONVENIENTLY PORTABLE DESIGN: This 18" sore muscle roller tool is long enough to target all major muscles but still compact enough to easily fit in your gym bag or luggage for travel. Choose between the 4 beautiful shades of red, blue, black & green and enjoy the effective relief of the best therapeutic massage stick whether you're home or away.
- BUY COMPLETELY RISK FREE: Your total satisfaction is our top priority. That's why we've backed our hand held self-massaging stick with a no-questions-asked 100% money-back guarantee. In case of any dissatisfaction simply reach out to us for a full refund or replacement. Click 'Add to Cart' now for the last gym muscle recovery roller you'll ever need to buy!
See Q&A on Amazon
Description
KEEP MUSCLE PAIN AT BAY WITH A MUSCLE ROLLER THAT WORKS Faster Pain Relief Whether you're looking for a muscle roller pin to soothe soreness after a brutal workout, loosen up your tight back after a long day of sitting, or quicken muscle recovery, Yogu gives you noticeable relief in mere minutes! With its one-of-a-kind 9-roller design and rigid construction, this body muscle roller treats you to a deeper massage that instantly promotes blood flow, helps release the buildup of lactic acid, and gives your muscles a good stretch. If quick pain muscle relief is what you're after, then Yogu is ...
Read More
Customer Feedback
It brings me some relief...
I like this product.
Not sure about pain relief properties per se, but I do enjoy working it into my routine and laying on it.
This mat is really a game changer for those in chronic pain.
After laying on the mat for around ten minutes you will feel the acupressure kicking in.
See More Reviews on Amazon
Category: Sex Toys
Product Videos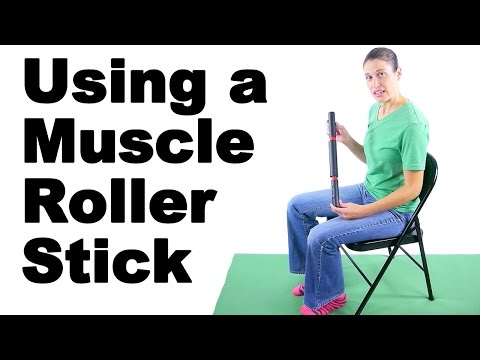 Using a Muscle Roller Stick to Relieve Tight or Sore Muscles - A…
Sponsored Content: Doctor Jo shows how to roll out tight or sore muscle using TUFF Active Gear's TUFF STX Muscle Roller. This can be a great way to help ...
See More Videos on Amazon
Editorial Reviews
Jane's Review: Should I buy this product?
Sorry! I'm working on a review for this product right now. Please check back shortly!
Meanwhile, you can see the data I gathered from the internet on this page so far. Or, you can talk to me by clicking on the bird icon and ask about this product.
Additional Research
Sorry, we don't have any additional research links built for you at the moment.
Answer a Question
Who would you buy this for?
A parent
A sibling
A friend
A grandparent
A significant other